Beautiful range of white varieties, with smooth skin, uniform tubercles and attractive color, as well as a very good yield: Arizona, Faluka.
Faluka
An early maincrop ware variety with excellent appearance, good heat tolerance and a high yield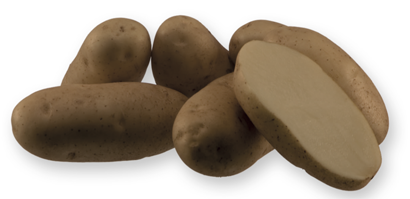 See more
Gros tubercules homogènes oblong-longs yeux très superficiels, peau jaune pale, chair de couleur crème.

Pomme de terre à cuisson plutôt ferme avec un rendement très élevé.

Peut être cultivée dans tous les types de sols, bonne tolérance à la chaleur et à ma gale commune.
Arizona
A second early ware variety, producing high yields under various climatic conditions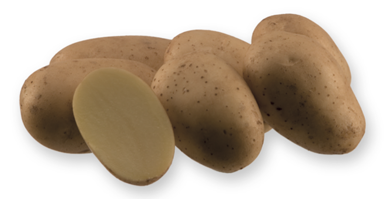 See more
Gros tubercules oblongs, de forme et de taille régulière, peau jaune et chair jaune pâle.

Cuisson assez ferme, rendement élevé, faible matière sèche et stockage de moyenne durée possible.

Tolérante à la chaleur, bonnes tolérances aux virus et rendement très régulier.